Collaborative research institutions
The National Hospital for Tropical Diseases(NHTD in Hanoi)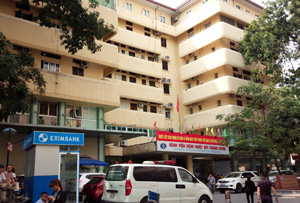 National Hospital for Tropical Diseases (NHTD) was originally a tropical infectious disease department in Bach Mai Hospital. In 2008, the department became an independent hospital and changed its name as NHTD. This is the reason why the hospital building is built in the premises of Bach Mai Hospital. ACC is renting a room in NHTD as an office, where our full-time researcher and local staffs work. In the cohort study for HIV-infected patients, which started in 2007, 1,820 patients have been enrolled to date, and regular data collection and follow-up have been conducted. In addition to treatment results for HIV infection, we are also analyzing data on drug resistance and side effects related to the treatment. In 2019, an additional new hospital was built about 30 minutes away from the center of Hanoi.
Bach Mai Hospital, Department for Infectious Diseases(in Hanoi)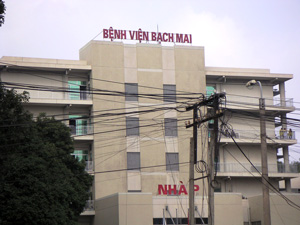 Bach Mai Hospital is a historical hospital founded by the French government in 1911. It is now a central hospital in the northern region of Vietnam. We have conducted research on various complications associated with HIV infection in this hospital. Bach Mai Hospital and the National Center for Global Health and Medicine (NCGM) have had a deep connection since the dispatch of JICA medical experts in the past. Since 2005, we have been conducting collaborative research on tuberculosis, influenza, AIDS, and other diseases, and in 2010, an official cooperation agreement was signed between NCGM and Bach Mai hospital. Before NHTD separated from Bach Mai Hospital, HIV medical care was provided at the Department of Tropical Infectious Diseases in Bach Mai hospital. Since the department of tropical infectious diseases became independent as NHTD, as mentioned above, the department of infectious diseases in Bach Mai hospital started providing treatment for HIV patients in October 2009. As the number of HIV-infected patients has increased, the need for cohort studies has increased as well. We have launched a cohort study at Bach Mai Hospital in addition to NHTD, and conducted data follow-up for 378 patients.
Hanoi Medical University (in Hanoi)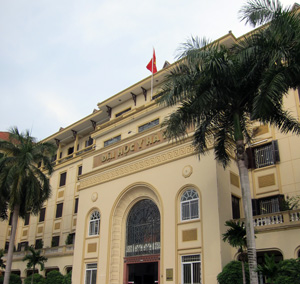 Hanoi Medical University (HMU) was established in 1902 and is the oldest medical university in Vietnam. It is a prestigious school that has produced excellent doctors for many years and contributed to the development and modernization of Vietnamese medical education. With the support of the US Centers for Disease Control and Prevention (US-CDC), HMU has been establishing and conducting a cohort of men who have sex with men and transgenders. In May 2019, a clinical program to provide HIV pre-exposure prophylaxis (PrEP) was launched, and ACC is collaborating in this program to conduct a new research project to examine the effects of PrEP.
The Hospital for Tropical Diseases(HTD in HCM city)
The Hospital for Tropical Diseases (HTD in HCM city)
HTD is specialized in tropical infectious disease located in Ho Chi Minh City, the Southern part of Vietnam. It is a historical hospital that was established in 1862 and is now a central hospital that handles tropical infectious diseases in Southern Vietnam. In 2008, we conducted surveillance of HIV drug-resistance among ART naïve patients in collaboration with local medical staff.